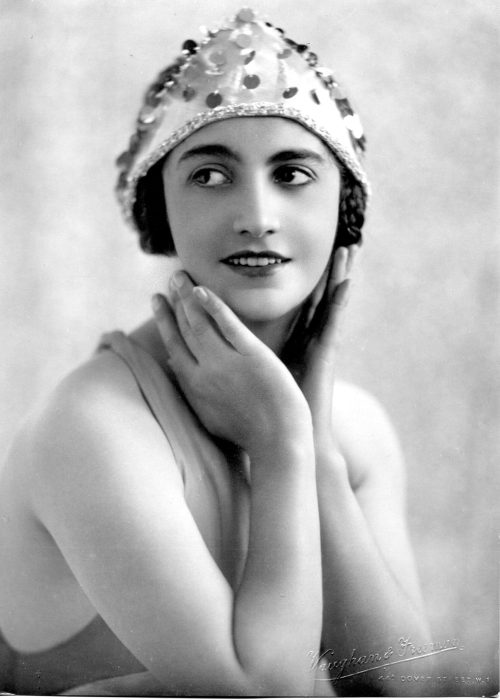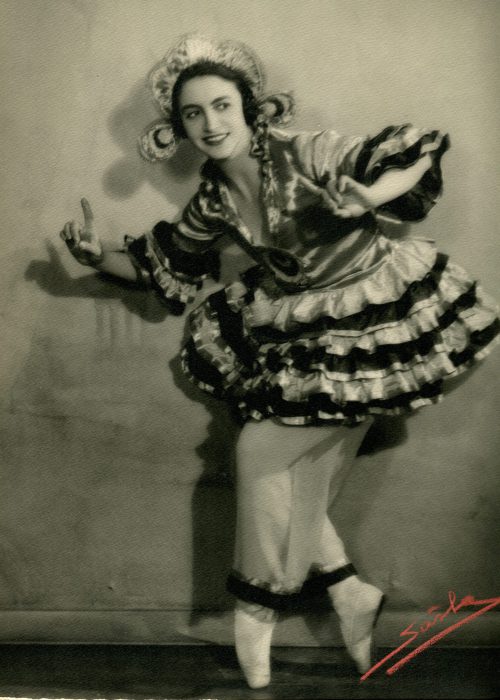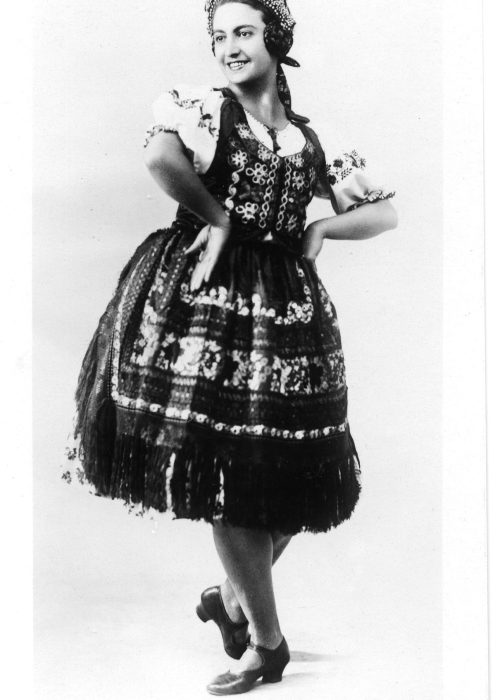 1897
Born in Preßburg/Pozsony (today Bratislava); her father is of Greek, her mother of Hungarian descent.
1897
Born in Preßburg/Pozsony (today Bratislava); her father is of Greek, her mother of Hungarian descent.
1902
Moves to Vienna, where Derra de Moroda (then still "Fritzi von Derra") goes to school.
1908–1912
Trained as a classical dancer in Munich.
1912
Debut as a freelance dancer at the Vienna Secession.
1912–1913
Guest performances in the Baltic States and Berlin.
1913
Derra de Moroda makes her debut in London as "the Charming Dancer with the Marvellous Hair" and begins a successful career as a dancer in English music hall and variety theaters. She settles in London.
1916
Premiere of the silent film Lead, Kindly Light with Derra de Moroda in the leading role.
1918
Derra de Moroda opens her own dance school in London with a wide-ranging course program. She begins to collect dance literature.
1918–1922
Studies with Enrico Cecchetti (former ballet master of the Ballets Russes) and contacts with dancers from the Ballets Russes in London (including Anna Pavlova); training with Bronislava Nijinska.
ab 1922
Intensification of dance teaching activities, including as a founding member of the Cecchetti Society and through various functions in the Imperial Society of Teachers of Dancing.
ab 1925
Dance critic, dance publicist and correspondent for various European journals such as the Dancing Times (London), the Archives Internationales de la Danse (Paris) and (from 1930) the magazine Der Tanz (Berlin).
ab 1928
Trips to Hungary and increasing interest in Hungarian dance. In 1929 Derra de Moroda publishes a book on Csárdás and Sor Tanc and expands her teaching program to include Hungarian dances. Personal and correspondence contacts with leading dancers of Central European expressive dance, including Kurt Jooss, Harald Kreutzberg and Alexander von Swaine.
1930
Derra de Moroda becomes a correspondent for the magazine Der Tanz and begins an intensive correspondence with the editor of the magazine, Joseph Lewitan, with whom she is friends.
ab 1931
Occupation with (historical and contemporary) dance notation (in lectures and later publications).
1933
Work as a choreographer: Derra de Moroda's ballet The Whitsun King (Hungaria) is performed at the London Coliseum in 1933 and later added to the repertoire of the Markova Dolin Ballet. Travels to South Africa on behalf of the Imperial Society of Teachers of Dancing.
1934
Jury member of the International Dance Competition in Vienna.
1934–1939
Summer courses in Salzburg (national and character dances, Cecchetti method).
1936
Derra de Moroda becomes a British citizen.
1938
Teaches at the "Meisterstätten des Tanzes" in Berlin.
1939
At the beginning of the war, Derra de Moroda is in Salzburg and, as a British citizen, cannot return to London.
1941
Derra de Moroda's house in London (and a large part of her valuable dance collection) is destroyed in a German bombing raid.
1941–1944
In 1941, Derra de Moroda takes over the direction of a newly founded ballet ensemble for the Nazi organization "Strength through Joy", with which she performs her own choreographies throughout Germany.
1944
Dissolution of the KdF ballet. Derra de Moroda is interned in Liebenau on Lake Constance.
1945
After the end of the war, Derra de Moroda settles in Salzburg.
1950–1967
After the death of her sister Minka (* 1877), Derra de Moroda inherits the Villa Schmederer in Salzburg-Parsch, where she establishes a ballet school. In addition to systematically expanding her dance collection, she devotes herself to dance research and maintains extensive correspondence with artists and colleagues.
1965
The City of Salzburg honors Derra de Moroda with the Silver Medal of Arms.
1972
Derra de Moroda is awarded the title of professor.
1974
Derra de Moroda is awarded the title of Ordinary Officer of the Civil Division of the Order of the British Empire for her services to British-Austrian relations.
1975
In her will, Derra de Moroda bequeaths her dance collection to the Institute of Musicology at the University of Salzburg.
1977
On her 80th birthday, Derra de Moroda receives the Golden Medal of Merit of the Province of Salzburg and an honorary doctorate from the University of Salzburg.
1978
Derra de Moroda dies in Salzburg.